The buildings which exist on the 108 Historical Site beside the Cariboo Highway (97)

in the southeast corner of D.L.76 are located on the site of the original 108 Mile House.

The beginning of "108 Mile House" began with William J. Roper, who pre-empted 320 acres of D.L. 76 in 1863.


There was no evidence of ownership of 108 Mile house from 1871 to 1880.

In 1867 Roper built a log shed north of the road.




From 1875-1885 the 108 Mile post, called the "108 Mile Hotel", was run by Agnus McVee, assisted by her husband Jim McVee.


In 1880 William Walker pre-empted 320 acres of D.L. 76. It is at this time that he built log dairy Ice House on this site.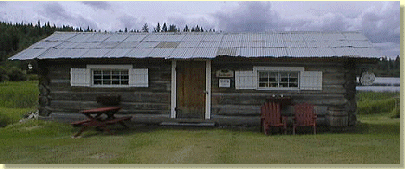 Ice House built in 1885 as a
by William Walker
In 1880 Walker tore down the "1867" Roper log shed and re-assembled it on the current site for the Store and Telegraph Office. Rumors have it he was looking for gold buried by Agnus McVee.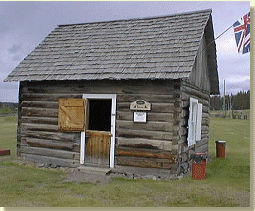 William Walker tore down "1867 Roper log shed"
and re-assembled it in 1880
as the Store and Telegraph Office
A Blacksmith shop was built in 1880 and by 1891 Walker sold the 108 Mile House on December 30 to Stephen Tingley for $320.00. His son Clarence ran it.
Originally assembled as the "1867, 108 Mile House"
built by W.J. Roper.
Torn down by Tingley and re-assembled
as Posthouse on present site in 1892

It was at this time that Tingley tore down the "108 Hotel built by Roper in 1867" north of the road and re-assembled it on this site for the 108 Posthouse with a single storey extension that contained the kitchen and eating area.

In 1892 a small log barn was built on the site. Also in 1892 a large log BX Stable was built, but this structure burned down 1904-1908 and was situated on the exact spot where the 105 Heritage House is now located on this site

1892 was also the year that the Bunkhouse was built and a frame blacksmith shop.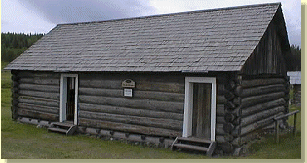 Bunkhouse built by S. Tingley in 1892

On September 23, 1903 Clarence Tingley sold D.L.76 to Captain Geoffrey Watson and 13 other lots for $11,000. 1904 saw the end of 108 Mile House as a roadhouse and stopping place.


Captain Watson turned the site into a Ranch and in 1908 he had Gilbert Monroe of Ashcroft build the large log Clydesdale Barn
Clydesdale Barn built in 1908
by G. Monroe for Captain Watson

In 1915 Captain Watson was killed in WWI.

The 108 Mile House (108 Mile Hotel as it was known then) was built primarily to serve the host of prospectors going and returning from the goldfields.

Because it was so close to 100 Mile House it was probably not used by stagecoaches that travelled the Cariboo Wagon Road.

However, it was probably an ideal stopping place for the lines of pack mules that carted supplies to the gold fields.


Source:100 Mile and District Historical Society, 108 Mile Heritage Site.

Special thanks to Mary-Anne and Tom Rutledge, Louise Larsen, Gary Babcock, Marie and Harvey Moore, Ted Parker and everyone at 108 MIle House






---