105 Mile House
built by Benjamin McNeil in 1907
Built in 1907 by Benjamin Howard McNeil, 105 Mile House was constructed of hand hewn logs.
It was donated to the 100 Mile and District Historical Society in 1979 by Block Bro. Industries. In that same year the society moved it from the 105 Mile House site to the 108 Historical Ranch site.
Metal embossed ceiling
It has metal embossed ceilings built to conduct heat. As hot air rose from the wood heaters it would be again reflected back into the room.
The bull pen shown here has the metal embossed ceilings, and was a room used by men in the evening.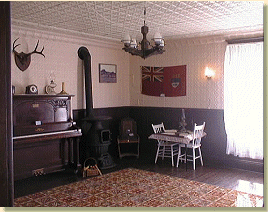 The "bull pen"


It was used to sit around and shoot bull (talk), play cards, and have a drink, hence the name "bull pen".

The doors, windows, tin siding and metal embossed ceilings were hauled in by wagon teams.
Side view of 105 Mile House
located on the site of 108 Mile House

Architecturally the house is late Victorian classical revival style, and was not typical of the more primitive Cariboo log homes.

This ceased to be a roadhouse after 1912.


Courtesy of Jamie Wood-House Tour Interpretor


Source:100 Mile and District Historical Society, 108 Mile Heritage Site.

Special thanks to Mary-Anne and Tom Rutledge, Louise Larsen, Gary Babcock, Marie and Harvey Moore, Ted Parker and everyone at 108 MIle House






---