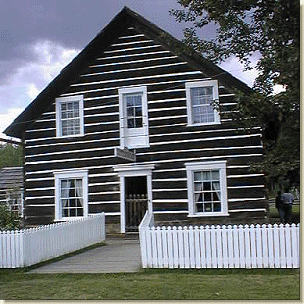 Cottonwood House, 1998
Cottonwood House is one of several roadhouses built to meet the needs of the prospectors, miners, settlers and many other travellers of the Cariboo Wagon Road.
Constructed on the Cariboo Wagon Road between 1864 and 1865, Cottonwood House served the Gold Rush travellers heading for Barkerville or making their way out to Quesnel and other destinations south and north.

In the first years of operation, Cottonwood was managed by several owners, then John Boyd acquired the property in 1874.
In those early days Cottonwood was a day's journey from Quesnel, and overnight accommodations were provided at the House.
With his wife Janet, ten children, and hired help, Boyd worked to raise crops, build the barns and operate a general store.
Chickens, geese and ducks were raised, and their own fresh vegetables, beef and pork were sold here along with hard goods.
A post office was established, and Cottonwood also served as an office for the Overland Telegraph between Quesnel and Barkerville.
After John Boyd passed away in 1909, Cottonwood was operated by Janet and his sons William and Harry until 1951.
Horses were changed, hearty meals were served to the stage drivers and passengers, and essential provisions could be obtained. Cottonwood earned a reputation as one of the finest stops along the Road! Today you can stop in and capture a sense of what travelling the Cariboo was like over a hundred years ago.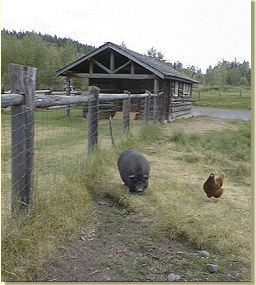 Suzi the pig, and chickens
Today at Cottonwood Historic site you can enjoy a personal tour, go for a carriage ride and explore the other buildings and meet all the friendly animals. You can help feed the chickens, sheep and Suzy the pig!
Cottonwood is presented for B.C. Heritage by Paulette and John Smith. Cottowood House, Box 65, RR #4, Cottonwood Site, Quesnel, B.C. Canada V2J 3H9. Phone/fax: (250) 992-3997





---