Quenel is known as "Gold Pan City".
Quesnel since the early 1860's has been the gateway to Barkerville.
Quesnel became the commercial centre of the Cariboo gold rush in 1862. Following the Gold Rush in British Columbia the Hudson's Bay company added retail sales for miners to its traditional trade with the aboriginals for fur.
The Quesnel Post, or the Hudson's Bay Company Store was opened in G.B. Wright's store in 1867.

West facade of the
Quesnel Hudson's Bay Company store,
currently known as the
Heritage House Restaurant, 1998
The present store was built in 1881, and it was significantly altered in 1900. Minor changes were made subsequently until 1964, when Aveline Hall began the restoration of the building.
1998 interior of Hudson's Bay Company Store
The Hudson's Bay Company supplied wholesale from Victoria via Yale.
However, with the completion of the Wagon Road to Quesnel and Barkerville in 1865, Quesnel lost its importance as a major centre for the trans-shipment of supplies.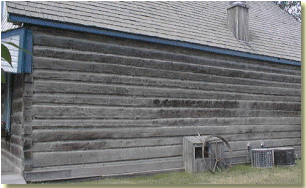 North east view
In a letter from the Gold Commissioner's Office to Peter O'Reilly, dated December 15, 1865, F. Trever wrote,
We have had a perfect collapse here and everyone has gone under, in fact the town is almost deserted;
PABC A/E/Or3/T72
Architectural History of Quesnel HBC Store
The traditional Hudson's Bay Company style of log building is called "Red River Frame".
The Hudson's Bay Company retail stores were built by contractors in the Log Cabin style.
After the mid-nineteenth century the Hudson's Bay Company adopted the "log cabin" design, which instead of post-on-sill, the logs ran full length of the wall and had dove-tail corners as seen here.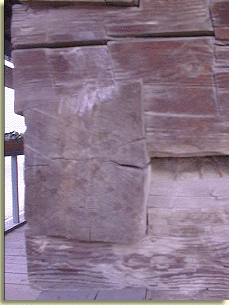 Log cabin design with dove-tail corners
The walls were generally twelve to fifteen rounds high, which combined with a steep pitch roof, allowed for a spacious attic.
It was often used for the storage of furs and sleeping quarters for the clerk.
More of Quesnel
This is a replica of the Cornish waterwheel that stands on "Heritage Corner today. It is across from the restored Hudson's Bay Company Store.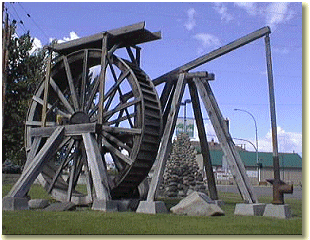 Replica of Cornish waterwheel
Cornish waterwheels were used to keep the mines dry, as prospectors dug down through the earth for gold. They relied on water for their operation.
The water was flumed to the top of a big wheel where it filled individual compartments on the wheel's rim. Weight of the water revolved the wheel which activated the pump handle. The wheels were handmade on the creeks, the miners' tools included a broadaxe, crosscut saw, wood auger and regular axe.




---