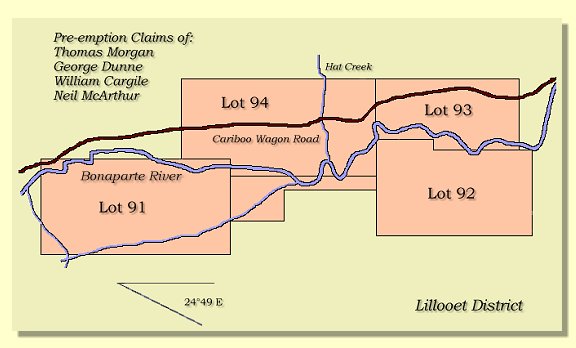 Late in the summer of 1860, Donald McLean abandoned his position with the Hudson's Bay Company after they removed him from his position in Kamloops.

The Mclean family started for Hat Creek, Bonaparte River. McLean was fifty-five years old at the time and had been with the company for twenty-seven years.

Before his quarrel with his employers he had risen to the position of Chief Trader at Fort Kamloops, a post he held when gold was first discovered in the Thompson River.
(p14, Ashcroft Revitalization Committee:1989).

Occupied in 1860 by the McLean and family and applied for pre-emption in 1861, these lots were later pre-empted in 1867 by George Dunn and eventually transferred to William Cargile in 1885.

At first the Mcleans were squatters and transient; they never completed their initial pre-emption claim. But during the course of the 1860's McLean and his sons assembled holdings of well over 1000 acres in the Bonaparte Valley and around the mouth of Hat Creek.

References were made in journals of "McLean's restaurant" or "farm" or "ranch" until 1867, although the family did not live their permanently, apparently dividing their places of residence.

Unfortunately McLean never signed his pre-emption papers and his wife was not able to keep the ranch after his death. George Dunne bought the Crown Grant. Dunne made an application to purchase 53 acres of lot 93 on November 22nd 1867.

Thomas Morgan pre-empted lot 91, 19 November 1867, with a Certificate of Improvement issued 20 May 1869. Morgan made an application to purchase lot 92 on 25 June 1869 for $120. These lots bound to the east and south on George Dunne's property at the junction of Hat Creek and Bonaparte River.

Neil McArthur recorded 160 acres of lot 94, 9 May 1866, and a Certificate of Improvement was issued 3 December 1867. McArthur tranferred his rights to George Dunne who recorded 160 acres 12 September 1867 with a Certificate of Improvement issued 3 October 1868. The rights were then transferred to William Cargile, for $3000, who applied for a Crown Grant in 1885 (Ashcroft Revitalization Committee:1989).

Through default on a mortgage Jerome Harper of Clinton acquired DL 93 and 94 in 1874 for $2000.

Hat Creek House is located on lot 94, one kilometer west of the Highway 97 junction. A gravel road following along the route of the original Cariboo Wagon Road crosses lot 93 and continues north, 10 kilometers to 20 Mile House. The ranch buildings included a hotel with 20 rooms, and stabling designed for 200 head of cattle, as well as other sheds of equal total capacity elsewhere
(p16, Ashcroft Revitalization Committee:1989)

.




---