Royal Engineers
The Royal Engineers laid the foundation for much of British Columbia.
Between 1858 and 1863, they planned towns, surveyed the land, settled disputes, diverted rivers, produced maps, established the International boundary and built quality trails and roads.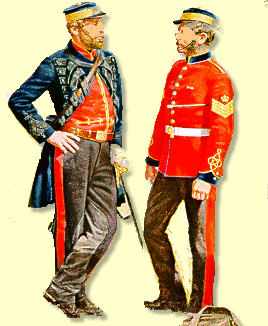 The Royal Engineers who came to the Cariboo were officers in the British Army skilled in the design and layout of the towns, roads and bridges to the colony needed. In most cases, they were also the only law and order for miles around.
The Royal Engineers came in 1858, the year 30,000 gold seekers flooded up the Fraser River in search of fortune. When the gold rush was over many of the Royal Engineers chose to stay, and live out their days as pioneer settlers.
The Royal Engineers were a small group of men, about 200 in all, arriving in the years of crisis and frustration over the lack of easy transportation.
In 1856 the Corps of Sappers and Miners was incorporated into the Corps of Royal Engineers, thus ending the previous arrangment of having military engineer officers and soldiers in separate corps.
What is a Sapper?
A sapper is a man of all work of the Army and the public. A sapper fills the duties of an astronomer, geologist, surveyor, draughtsman, artist, architect, traveller, explorer, antiquary, mechanic, diver, soldier, and sailor.



---