Oh! I belong to the Fire Brigade
Bonnie Are The Hurdies, O!
Roadhouse


Bonnie Are The Hurdies, O!

There's naught but care on ilka han',
On every hour that passes, O!

An' Sawney, man, we hae nae chance
To spark amang the lasses, O!
Chorus:
Bonnie are the hurdies, O!
The German hurdy-gurdies, O!
The daftest hour that ere I spent,
Was dancin' wi' the hurdies, O!
Chorus
A warldly race that riches chase,
Yet a' gangs tapselteerie, O!
An' every hour we spend at e'en,
Is spent without a dearie, O!
Chorus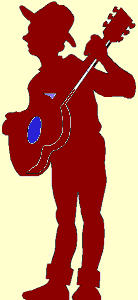 Last summer we had lassies here
Frae Germany-the hurdies, O!
And troth I wot, as I'm a Scot,
They were the bonnie hurdies, O!
Chorus
There was Kate and Mary, blithe and airy,
And dumpy little Lizzie, O!
And ane they ca'd the Kangaroo,
A strappin' rattlin' hizzy, O!
Chorus
They danced at night in dresses light,
Frae late until the early, O!
But oh! their hearts were hard as flint,
Which vexed the laddies sairly, O!
Chorus
The dollar was their only love,
And that they lo'ed fu' dearly, O!
They dinna care a flea for men,
Let them coort hooe'er sincerely, O!
Chorus
They left the creek wi' lots o' gold,
Danced frae oor lads sae clever, O!
My blessin's on their 'sour kraut' heads,
Gif they stay awa for ever, O!
Notes:
Bonnie Are The Hurdies 0! W., SAWNEY, pp. 15-6; previously appeared in Cariboo Sentinel of July 23, 1866. A reworking of "Green Grow the Rashes, 0", itself a reworking by Burns (1784) of an earlier "Rustic song", first printed 1549. M. after James C. Dick, The Songs of Robert Burns (repr. Hatboro, 1962), p. 102.
From Songs of the Pacific Northwest. Ed. Philip J Thomas. Music Transcription and Notation by Shirley A. Cox. Saanichton, B.C.: Hancock House Pub (1979.) p.44-46
---