Nellie Cashman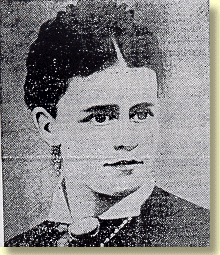 Nellie Cashman

Nellie Cashman was known as "The Miner's Angel". Nellie Cashman was born in 1844 in Ireland, and arrived in Boston at the age of three to be looked after by her aunt.
Red-haired Nellie began setting records early, when she became a bellhop at sixteen. Some claim that she was the first lady to enter that profession.
At 28 years old Nellie decided to open her own restaurant in Virginia City, Nevada. It was there where she first met the ever-hopeful clientele of rough miners. She realized these rough miners were of her own; always seeking that pot of gold at the end of the rainbow.
Saving enough money to buy a grubstake, Nellie trudged into the wilds with pick, shovel, and pan.
The Islander, November 3, 1968 reported that,

She would follow this elusive trail of wealth-sometimes with success-to the end of her days."
It was in San Fransisco that Nellie flipped a coin to see if she would go to South Africa or British Columbia. Tails - it was British Columbia.
In the summer of 1874, Nellie and a bearded troupe of miners landed in Victoria, enroute to the Cariboo.
After reaching their destination, Nellie nursed many of the miners back to health from scurvy with the lime she carried.
In 1898 Nellie again opened a restaurant and always seemed willing to give free meals to any hungry men.
Nellie moved to Dawson, and ran another restaurant, giving along free tobacco and cigars to those men really down on their luck.
In 1924, Nellie made a 750 mile dog-sled trip through the snow with a driver to Koyukuk. Nellie was proud to have walked on her own two feet at the age of eighty, but fell ill to pnemonia and died.
She is buried in Ross Bay Cemetary in Victoria, British Columbia,



---