When news of the gold strikes on the Cariboo creeks spread around the world in the early 1860's, thousands of men and women from many nations raced to British Columbia. Some of these people were called the Overlanders.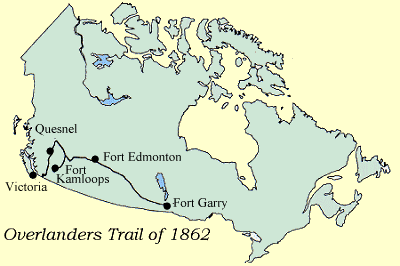 Among them was a group of 150 men, one pregnant woman, and her three young children, who left Eastern Canada in the spring of 1862 on a 3,500 mile overland journey in hopes of reaching the Cariboo gold-fields. Many turned back, and some died, but most made it to the gold-laden creeks of the Cariboo.
From Eastern Canada, these "Overlanders" left Fort Garry (Winnipeg) in June of 1862 in Red River carts.
The journey took them through Fort Garry, across the prairies to Fort Edmonton, and over the Rocky Mountains to Tete Jaune Cache. The exhausted Overlanders decided at this location to divide into two groups.
Most Overlanders decided at this point to build large rafts and travel the Fraser River to the mining town of Quesnel, then onward to Victoria to obtain mining licenses. Other Overlanders decided to travel down the Thompson River to Fort Kamloops.
Often the Overlanders were forced to wade or swim across turbulent streams and rivers without their rafts.

This was a difficult journey, and many Overlanders either lost or traded away their supplies for food before reaching their destinations.




---