Gold Rush Merchants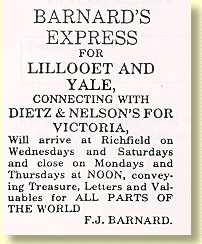 Miners who came to the Cariboo from all over North America and beyond soon found the need for basic services.
Some people who came to the Cariboo to mine the gold-fields found profit in different areas of work. Roadhouses were soon established to offer travellers a place to stay.
Miners who came to towns temporarily in search of gold, or those passing through, sometimes generated business by setting up ranches. Some of these "ranches" called roadhouses still exist today.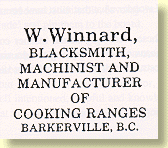 The journey was long and difficult, and the roadhouses quickly became a welcome addition to the gold mining towns.
Saloons, restaurants, general stores and merchants sprang up turning the mining communities into self-sufficient towns.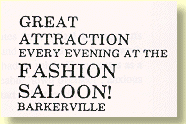 Saloons became popular social places for miners, especially after long, difficult days and weeks in the mining fields. Many Chinese immigrants who followed the mining trail up the Fraser and Thompson Rivers established Laundromats and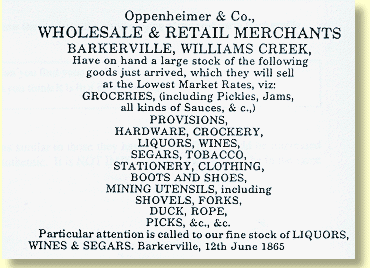 Chinese Restaurants along the way.
Those from California or Asia brought diversity and valuable services to the mining towns, and were able to support themselves and their families.
Merchants brought commodities to the miners and the other citizens. These merchants of the mining towns offered people independence from larger cities, as well as giving a feeling of community.
It was now up to the merchants to bring the supplies into the towns by shipping and ordering, thus making life a little easier on the mining residences. The gold rush offered great opportunities for those outside the mining industry and served as an appealing aspect of Cariboo settlement.

Merchants also brought a sense of civilisation to the mining regions. Self-sustaining towns were functioning with their own hotels, roadhouses, general stores, saloons and restaurants. These mining towns were now similar to life in the earlier established colonies such as Victoria or the coast.